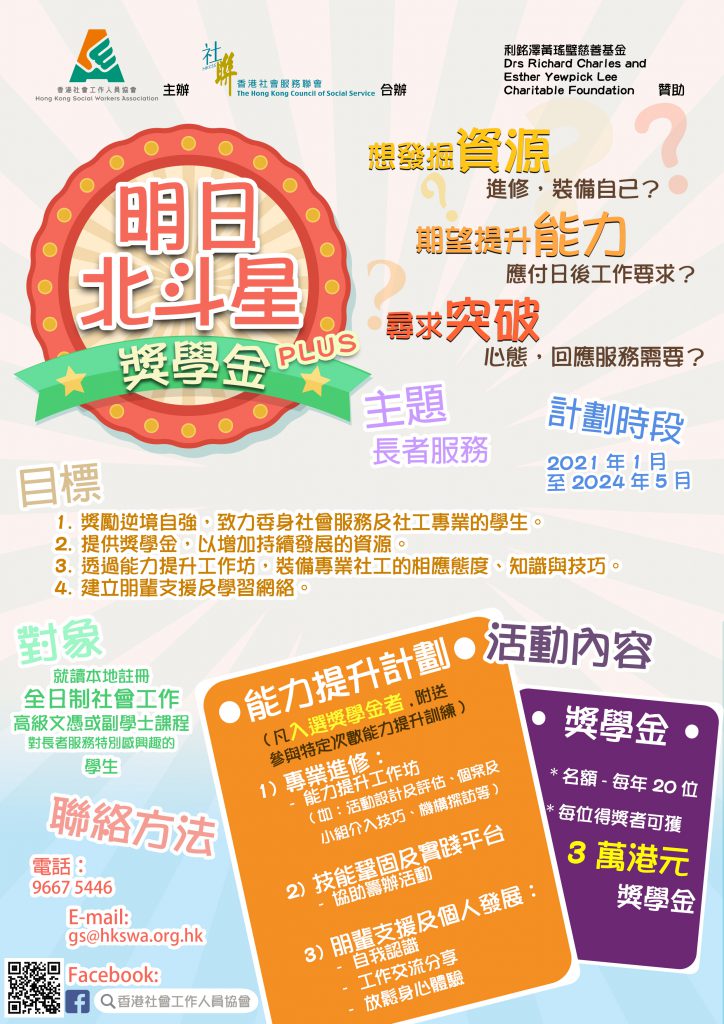 Guiding Star Scholarship Award is sponsored by Drs Richard Charles and Esther Yewpick Lee Charitable Foundation. The scholarship aims to encourage social work students of being perseverance in adversities with aspiration of serving the community and commitment to social work profession, to grant the scholarship for alleviating the financial burden of the students and to support the students in pursuing continuing education and future development.
Drs Richard Charles and Esther Yewpick Lee Charitable Foundation has appointed Hong Kong Social Workers Association (HKSWA) to organize the scholarship and co-organize with The Hong Kong Council of Social Service (HKCSS), including the review of applications, selection of awardees and disbursement of scholarship funds.
Number of Awardees and Amount of Award:
There will be 20 scholarships in 2020/21. Each awarded student will receive a grant of HK$30,000. The awardee will be awarded to participate in Capacity Building Programme.
Theme:
Elderly Service
Eligibility:
The applicants should be Hong Kong residents
Full time Year 1 or Year 2 students in academic year 2020/21 at sub-degree (Higher Diploma / Associate Degree Social Work Programme recognized by the Social Workers Registration Board
The student who is keen on Elderly Service
Priority will be given to applicants from families with low income or recipients of CSSA, or with special needs e.g. family members suffering from chronic diseases
Awardees will be required to pledge that they shall complete the full-time sub-degree (Higher Diploma /Associate Degree) Social Work Programme
In order to benefit more needy and eligible students, former awardees of the Guiding Star Scholarship Award WILL NOT be considered
Selection Criteria:
Demonstrated a need for financial assistance
High standard of academic performance and willing to pursue continuing development
Being perseverance in adversities
Strong commitment to Social Work Profession and Social Services
With aspiration in serving the community and passion in serving the elderly
Schedule:
| | |
| --- | --- |
| Deadline of Application | 26 Feb 2021 at 5pm |
| Screening and Announcement of Shortlisted Applicants for Interviews | Mar – Apr 2021 |
| Interviews | Apr – May 2021 |
| Award Announcement | On or before end of Jun 2021 |
| Disbursement of Scholarship Funds | On or before end of Jul 2021 |
Application Procedures:
Eligible students should submit applications via the online system: https://gs.hkcsswg.org.hk
All application would be screened to shortlist applicants according to the selection criteria for attending selection interview.
Enquiries:
For enquiries, please contact Ms Mandy Chan of The Hong Kong Council of Social Service.
Tel:       (852) 2876 2401
Email:   [email protected]