Service Development
Hong Kong's economic and societal composition has undergone rapid change over the years. Our current challenges include aging populations, employment equilibrium discrepancy, structural change of the family system and increase in mobile population. We stand by our society in facing these challenges by working closely with the sector to initiate up to date services.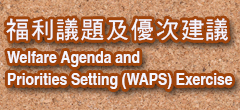 Welfare Agenda and Priorities Setting (WAPS) Exercise
Co-organized "Welfare Agenda and Priorities Setting Exercise" with the Social Welfare Department (SWD) for discussion on welfare foci and priorities in the annual resources allocation exercise. The council submitted a priority list of recommendations to the SWD subsequently and also lobbied different political parties for their support.
Click here for Welfare Agenda and Priorities Setting (WAPS) Exercise
《抱抱照顧者》(Chinese version only)
2021年社聯在香港公益金的支持下推動《抱抱照顧者》運動,為照顧者提供部分社區上可使用的社區資源,舒緩照顧壓力,聽聽同路人的心聲及經驗分享,知悉照顧路上並不孤單,路上處處是援手!
在推動照顧者友善社會的同時,希望各位照顧者好好疼愛自己,需要時可找親友、社工或同路人傾訴,亦可尋找合適支援照顧者的社區資源。
Hong Kong Physiotherapy Association – News Bulletins
香港物理治療學會期刊是每兩月出版一次,旨於為物理治療師及社福界持份者帶來業界最新消息,並提供交流意見平台,藉此促進物理治療專業發展。其中,社聯協助邀請社福機構投稿,於期刊"NGO Corner"分享知識和實踐經驗,推動業界和跨專業交流,並提昇從業員及公眾對物理治療專業的了解。
Contact Us
Address: 12/F, Duke of Windsor Social Service Building, 15 Hennessy Road, Wanchai, Hong Kong
Tel: +852 2864 2944
Fax: +852 2876 2449
E-mail: [email protected]