Impact Giving
'Impact Giving' mobilizes resources and builds partnerships to enable collaboration between foundations, NGOs and social enterprises to address pressing social issues. We foster co-creation and scale sustainable solutions to create greater impact. Through our platform, we provide a conduit for organizations to come together and work towards a common goal of advancing the well-being of our community.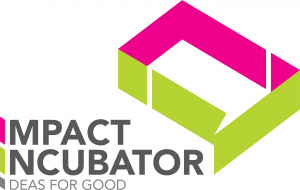 Impact Incubator
Is a one-stop supporting platform that connects social innovation implementers (SIIs) to knowledge, resources and networks relevant to social welfare agencies, social enterprises, philanthropic foundations, business associations and professional bodies. This platform helps SIIs implement innovative solutions to poverty and social exclusion problems in Hong Kong and drive sustainable impact.
Please click here for more details!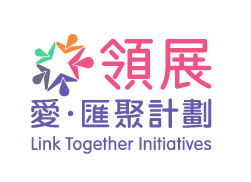 Link Together Initiatives
Each year, Link contributes an amount of up to 0.25% of its net property income from the previous financial year to the Link Together Initiatives. Established in 2013, this charity and community engagement programme has committed HK$123 million to support community services covering all 18 districts of Hong Kong. The programme supported community projects and the Link University Scholarship programme.
Link has appointed The Hong Kong Council of Social Service (HKCSS) as the project consultant and partner of Link Together Initiatives. HKCSS will assist in defining the scope of the funding scheme, screening applications, conducting due diligence and identifying suitable partner organisations.
Please click here for more details!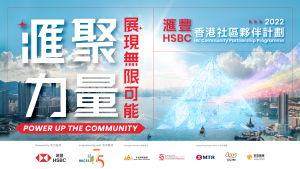 The HSBC Hong Kong Community Partnership Programme
The Programme aims to foster a more inclusive society, enhance cross-sector collaboration, and help charities and social welfare organisations build capacity. Supported by the Home Affairs Department, the Social Welfare Department and the Hong Kong Council of Social Service (HKCSS), the Programme has supported more than 1,400 projects benefiting 6 million people since its launch in 2012.
With the funding HKD18 million from The Hongkong Bank Foundation in 2023, the Programme continues to support innovative district-based community initiatives, helping disadvantaged communities build resilience and become future-ready, and promoting green thinking and sustainable, while fostering community growth, enhancing social inclusion and building a sustainable and resource-efficient future.
The HSBC Hong Kong Community Festival – an annual event that engages the public in supporting CPP innovative activities that build resilience in the community and positive energy in all 18 districts – is planned for December 2023.
HSBC is grateful to HKCSS for managing the grant application and project monitoring processes, which helps ensure the effectiveness and the continuing success of the Programme since 2012.
Please click here for more details!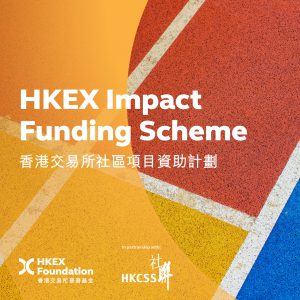 HKEX Impact Funding Scheme
HKCSS, in partnership with HKEX Foundation, has set up the HKEX Impact Funding Scheme (the Scheme) since 2021 to support charities which do not receive any regular government funding and eligible social enterprises focusing on the four focus areas of HKEX Foundation, i.e. Financial Literacy, Diversity and Inclusion, Poverty Relief and Environmental Sustainability, serving a wide spectrum of people in need in our community. In addition, the Scheme also aims to promote the use of technology and innovation to address social and environmental challenges of the society.
For more information, please click here visit HKEX Foundation website.
Contact Us
Address: Room 1109, 11/F, Duke of Windsor Social Service Building, 15 Hennessy Road, Wanchai, Hong Kong
Email: [email protected]