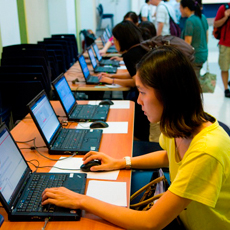 IT Resource Centre
Our aim is to help the sector to take the advantage of technology at work. We propose IT policies, operation and software guidelines and provide supports, as well as introduction to reasonable priced products to our fellow members. While taking care of the sector's technical need, we also promote "accessibility to all", aiming to lower the barriers to IT accessibility.
For more information , please visit
TechDonation
As the major source of income for most non-profit organizations is donation, NGOs commonly lack the budget to purchase updated systems and software tools. With such limitation, work efficiency is greatly impacted. In this connection, we have implemented a partnership program with TechSoup Global to donate technological products and related relevant solutions that meet the needs of NGOs.
Welfare Sector IT Security Portal
To raise the NGOs' awareness and knowledge of IT security and enhance their IT security, The Hong Kong Council of Social Service (HKCSS) has been carrying out a pilot project, namely "Pilot Project of Information Technology Security Audit for Non-governmental Organizations of the Welfare Sector in Hong Kong" (the Pilot Project), for 22 participating NGOs. The project was granted from the Lotteries Fund.
In this Pilot Project, an IT security practice guide for the Sector will be compiled; IT security training (for management, general staff and IT staff) will be provided to the pilot NGOs; related information about this Pilot Project and IT security will be shared on an online platform; this Pilot Project will be evaluated on its effectiveness; and a study for a full-scale security audit project will be conducted by the end of this Pilot Project.
Contact Us
Address: Room 1102, 11/F, Duke of Windsor Social Service Building, 15 Hennessy Road, Wanchai, Hong Kong
Tel: +852 2922 9280
Fax: +852 2865 0823
E-mail: [email protected]
Website: https://itrc.hkcss.org.hk/