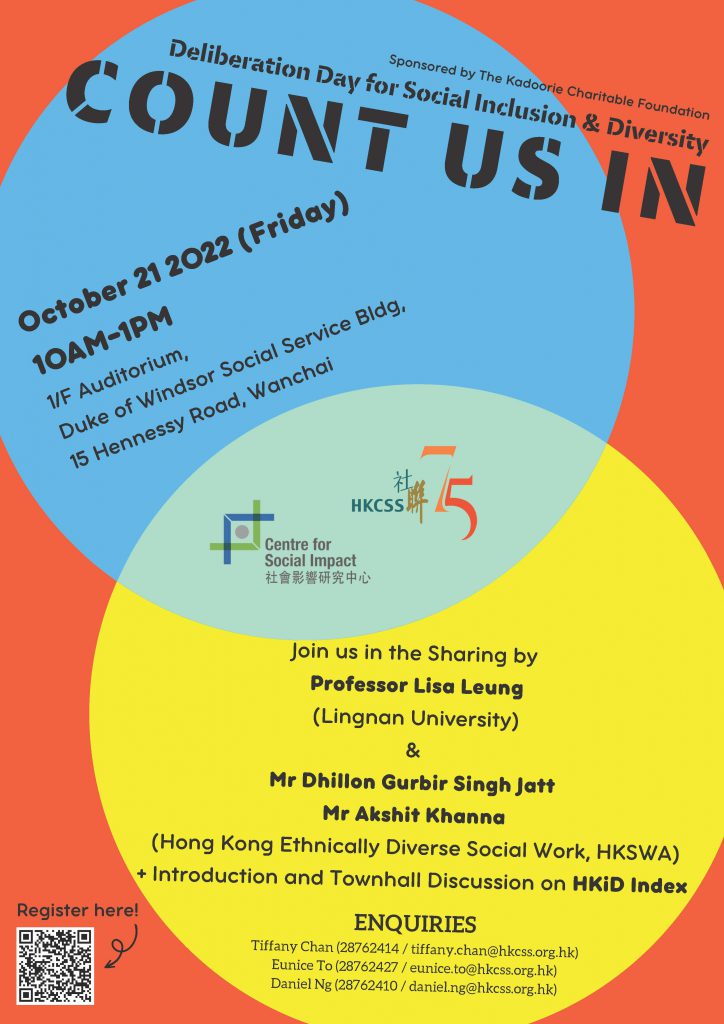 Project PRAISE, a collaboration project sponsored by the Kadoorie Foundation between the Hong Kong Council of Social Service (HKCSS) and two social operators (Yuen Long Town Hall & H.K.S.K.H. Lady MacLehose Centre), aims to promote ethnic minorities' (EM) empowerment and social inclusion in Hong Kong. We plan to build a systematic and social intelligible tool for the advocacy of a socially inclusive society, namely the Hong Kong inclusion and Diversity (HKiD) Index.
Over the past year, the research team has come up with 6 life domains and a list of objective indicators. We would like to present our tentative indicators and seek advice from individuals who are working toward diversity and inclusion, as well as the bigger ethnic minority community in Hong Kong.
Therefore, an engagement activity titled Count Us In: Deliberation Day for Social Inclusion and Diversity are organized for ethnic minorities and professionals from different sectors who are concerned with ethnic minorities' issues in a participatory discussion. Professor Lisa Leung from the Lingnan University's Department of Cultural Studies, as well as the Hong Kong Social Workers Association's Ethnic Diverse Chapter shall be sharing. Participants are welcomed to share their experiences and barriers to inclusion. The details and tentative rundown of the said event are listed as below.
Details are as follows:
Date

 :

21st October 2022 (Friday)
Time

 :

10:00 – 13:00
Address

 :

Auditorium, 1/F, Duke of Windsor Social

Service Building, 15 Hennessy Road,

Wan Chai, Hong Kong

Language 

:

English
Event Fee 

:

Free
If you are interested in the event, please do online registration on or before 14th October 2022. For inquiry, please contact Ms. Eunice To at 2876 2427/ email: [email protected] or contact Ms. Tiffany Chan at 2876 2414/ email: [email protected].
We are looking forward to your participation. Thank you!
Attachment: