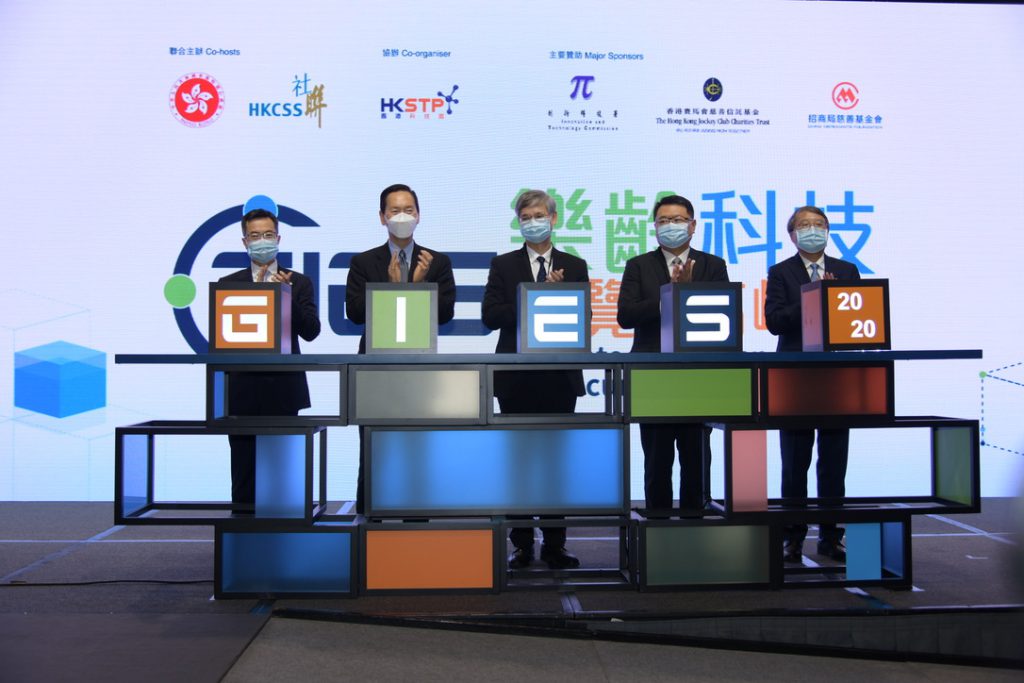 【Press release on 19 November 2020】The fourth Gerontech and Innovation Expo cum Summit (GIES), co-hosted by the Hong Kong Council of Social Service (HKCSS) and the Hong Kong Special Adminstrative Region (HKSAR) Government, and co-organised by the Hong Kong Science and Technology Parks Corporation (HKSTP), showcases innovative technology products and solutions, provides a collaborative platform for all stakeholders which jointly foster the improvement of policies and the development of Hong Kong society, and responds to the challenges and opportunities brought about by the ageing population. The exhibition is held from 19 November to 22 November, 2020 at Hall 1A-C of the Hong Kong Convention and Exhibition Centre, and is open to the public for free.
Nearly 160 exhibitors showcase more than 500 gerontech products and solutions. Exhibitors responded very enthusiastically with about 40 new exhibitors. Some of the exhibits made their debut in Hong Kong this year.
Dr Law Chi-kwong, Secretary for Labour and Welfare, who officiated at the GIES said, 'To help the elderly service sector adopt better technologies and other advanced solutions, we have launched a HK$1 billion Innovation and Technology Fund (I&T Fund) for Application in Elderly and Rehabilitation Care. The I&T Fund has already approved over HK$200 million to subsidise about 970 elderly and rehabilitation service units for procuring or renting over 4,200 technology products.' He also commented, 'The Government has commissioned the Hong Kong Council of Social Service, our long-term partner as well as the capable organiser of this Expo, to promote the use and application of innovative technologies in long-term care services.'
Another officiating guest Mr Bernard CHAN, Chairperson of The Hong Kong Council of Social Service said, 'The word "gerontechnology" is no longer an obscure technical term, it is now recognized by people in the business and welfare sectors as well as by the general public. Over the past months, the pandemic has created new normal for everybody. Many operators have utilized different technological means to continue providing client support. Tele-practice with innovative technology is the promising new direction for welfare sevice development in the coming era.'
This year's Expo covers 9,400-square-metre exhibition floors with four featured pavilions which are Carers We Care, Social Service in the New Horizon, Asian Care Food, and Jockey Club "age at home" Gerontech Education and Rental Service.
A series of highlighted events will be staged at the Expo, such as HKCSS "Care Food Standard" Release, Care Food Cooking Competition 2020 Prize Presentation Ceremony, Demonstration of Care Bed Installation and Dismantle together with Sharing by Care Equipment Counsellors, Gerontech Youth Challenge 2019 Award Presentation Ceremony and Healthy Mahjong Esports Competition.
In addition, in response to time-limited positions created by subvented non-governmental organizations in elderly and rehabilitation service units to assist in the implementation of technology applications, there is a Gerontech Recruitment Hub to provide relevant information on job vacancy details.
"The Gerontech and Innovation Expo Cum Summit 2020"
Venue: Hong Kong Convention and Convention and Exhibition Centre Hall 1A-C
Exhibition Date and Time for Public:        
19 November 2020 (Thursday) 

20, 21 November 2020 (Friday, Saturday)

22 November (Sunday)   

11:00-18:00

10:00-18:00

10:00-17:00
*Last admission time is 30 minutes before the daily closing time.
Website: http://gies.hk
Featured Pavilions

Brief Information

Social Service in the New Horizon

(B02)

With the outbreak of the pandemic, tele-practice will become an emerging mode of social service practice.  Different technologies which can facilitate the service delivery will be displayed in this pavilion.

Carers We Care

(N02)

Gerontech can support carers in handling different home care issues.  An experiential zone will be set up where visitors can try out different gerontech products. 

Asian Care Food

(P08)

Decorated like the old and new airports of Hong Kong, this pavilion will enable visitors to feel the joy of traveling overseas.  They can also learn about the development and preparation skills of Asian care food.

Jockey Club "age at home" Gerontech Education and Rental Service

(B01)

Introduce the 4.5-year pilot scheme providing the elderly and carers gerontech education, rental, cleaning and maintenance service. A mock-up assessment room and wheelchair cleaning machine will be available in the pavilion to show how assessment and machine cleaning is conducted.  There will be demonstration of care bed dismantle and installation and sharing by care equipment counsellors on their experience in joining the gerontech industry.
HKCSS would like to express our deepest gratitude to all funders including Innovation and Technology Commission (ITC), The Hong Kong Jockey Club Charities Trust, and China Merchants Foundation.
* Expo Photos for Download: https://bit.ly/2UCzdNa
Media enquiries
Eddie Tsang
Senior Manager
Corporate Communications, HKCSS
Tel:9102 6291 (WhatsApp) 
Email:[email protected]

Amy Mok
Project Manager
Innovation and Technology for Ageing, HKCSS
Tel:9409 4122 (WhatsApp)
Email:[email protected]