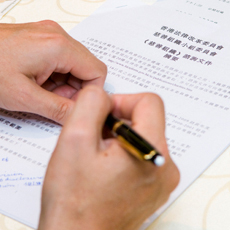 Membership Liaison and Service
Through various networks and channels, the Council maintains close communication with its members for addressing and participation in issues of social service, such as formulation of social welfare policies, subvention systems and allocation of public funds, etc. The Council also provides services that facilitate the operation of agencies, such as group insurance schemes, personnel recruitment platforms, coordination for enhancing communication and collaboration among agencies and between the Sector and the government, as well as organization of a variety of capacity development activities for small-and-medium-sized NGOs.
For more information , please visit
The Directory of Social Service Organizations in Hong Kong is a published in a printed copy with a website. The updated information of 395 social service organizations is indicated with their aims, missions, scope of services, governing structures, annual expenditures, performances and future development, which reflects the transparency and accountability in the social welfare sector. In the website, you will realize how the huge cohesion of social power and local resources of the social service organizations, respond to the needs of the general public. It would be our pleasure for different sectors, including professionals, commerce, governmental departments, funding institutions, community groups, and service users, etc., to learn more about the social service organizations in this website.
"Project Star" – Agency members of the Hong Kong Council of Social Service which do not receive regular subventions from the Social Welfare Department (Non-subvented Organizations) are the service targets of this Project. We will launch series of workshops for NGOs executives (board members, agency heads and senior management) to enrich their knowledge of organization governance and development. To raise public awareness and support to Non-subvented Organizations, we will support the network building of participating NGOs through interactive programs with public and private sectors, professional bodies and donors. We will also develop a resource sharing platform to facilitate mutual support as well as exchange of expertise and resources for social services.
The Hong Kong Council of Social Service and CT Goodjobs have jointly set up the territory's first social service recruitment website to provide job seekers with information on job vacancies and the workplace.
Contact Us
Address: 14/F, Duke of Windsor Social Service Building, 15 Hennessy Road, Wanchai, Hong Kong
Tel: +852 2864 2985
Fax: +852 2864 2910
E-mail: [email protected]