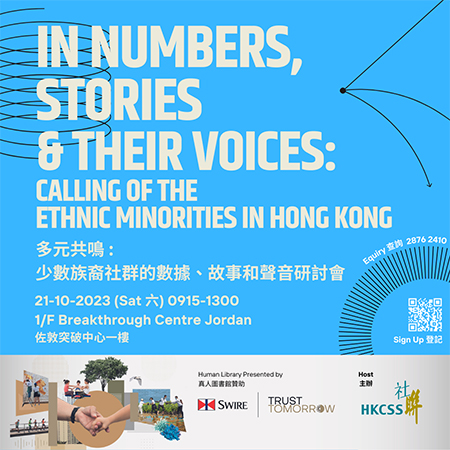 Hong Kong is home to more than 600,000 ethnic minorities, constituting 8.4% of the total population in 2021. However, our community has yet been as inclusive as it should be for them to enjoy equal opportunities, resources and support for a better wellbeing. The Hong Kong Council of Social Service (HKCSS) therefore has launched a few research initiatives since 2021, including The Hong Kong inclusion and Diversity (HKiD) Index and its supplementary community survey in Kwai Tsing and Yuen Long. These efforts are expected to provide evidence for various stakeholders to embark on discussion and, more importantly, take actions for building an inclusive and diverse society of Hong Kong.
Last year, a Town Hall meeting was organized to bring together people of different backgrounds to sound out issues and concerns for the development of socially inclusive society.  The feedback was promising and the participants treasured very much the opportunity to get together, discuss and deliberate actions to be taken.  After all the research and engagement efforts, the captioned event is organized for stakeholders of different backgrounds to take a closer look at the situation of the ethnic minorities in Hong Kong, as they are represented in statistics, in stories of everyday life, and in voices in their encounters with the public institutions.  FOUR Tung Chung residents of diverse ethnical backgrounds are invited to share their stories, while the Council's Social Impact Assessment team shall be sharing their findings and observations in the research process.  You are cordially invited to join the event and share your thoughts and ideas of how we may work to improve the situation towards the goal of social inclusion. The details and tentative rundown of the said event are listed as below.  
Event Details:
Date : 21st October 2023 (Saturday)
Time : 0930 – 1300 (Registration starts at 0915)
Venue : Breakthrough Centre (1/F, 191-197 Woo Sung Street, Jordan, Kowloon)
Language : English
Event Fee : Free
If you are interested in the event, please do online registration on or before 13th October 2023.
For inquiry, please contact Mr Daniel Ng (2876 2410 / [email protected]) or Ms Tiffany Chan (3596 7558 / [email protected]). We are looking forward to your participation!
Attachment: Memo and rundown