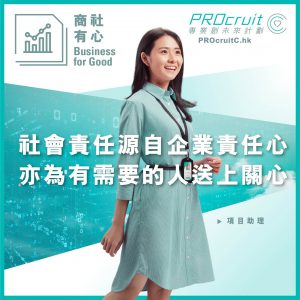 Call for Application
PROcruit C
The Hong Kong Council of Social Service (HKCSS) is inviting graduates of 2018/2019 and 2019/20 who are degree or sub-degree holders to participate in the PROcruit C (the Project), a one-year long project offers job opportunities to first-time jobseekers in Corporate Social Responsibility industry.
An online Information session was held on 22 Dec 2020 to introduce the position offered in area of Business for Good – Corporate Responsibility Assistant including job duties and career prospect. Please visit to PROcruit website to review.
Project details
Position: Corporate Responsibility Assistant
Requirement:
Fresh Graduates in 2019 & 2020 who are Degree / Sub-degree holder – in all disciplines of studies
Must be a First-Time Jobseeker – no more than 3 months of full-time employment
HK resident
Strong passion in Corporate Social Responsibility
Duration: 12 months
Participating organisations in the area of Business for Good (in alphabetical order according to English company name):
Asia Allied Infrastructure Holdings Ltd, BCTC (Bank Consortium Trust Co Ltd), Chicle Communications Ltd, Fimmick Ltd, Gerson Lehrman Group (Asia) Ltd, GF Technovation Company Ltd, Hang Seng Bank Ltd, Hang Seng Investment Management Ltd, Happiness Capital, Kerry Holdings Ltd, Kerry Properties Ltd, Kinetix Systems Ltd, Kwai Hung Group, Link Asset Management Ltd, Meiriki Japan Company Ltd, Otis Elevator Company (HK) Ltd, Secure Information Disposal Services Ltd, Standard Chartered Bank (HK) Ltd, Strategic Public Relations Group, Swire Group Charitable Trust (HK), Swire Properties Ltd, The Hong Kong and China Gas Company Ltd, The Project Futurus Ltd (more companies will be joining)
Application:
Sign up here and login to submit your application for the position of Business for Good.
For details, please visit: https://www.procruitc.hk/
For enquiries, please email to [email protected]
About PROcruit C
Created and funded by The Hong Kong Jockey Club Charitable Trust, this project offers 400 job opportunities to trainees to launch their careers with emerging professions in the area of Healthcare for Good, Technology for Good, Creativity for Good and Business for Good. The Project deploys a professional traineeship model to develop young talents to address post-COVID-19 social needs and challenges. HKCSS is the Industry Convener in the area of Business for Good, responsible for corporate partnership and coordinate positions related to Corporate Social Responsibility.