Caring Company Scheme
To build a cohesive society by promoting strategic partnerships among business and social service partners, and inspiring corporate social responsibility through caring for the community, employees and the environment.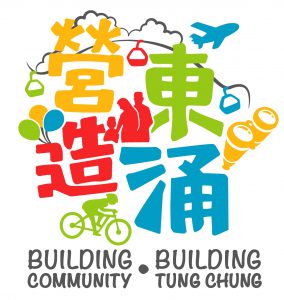 Building Community • Building Tung Chung
Tung Chung is a rapidly developing remote New Town. Drastic growth of population lead to a greatly-increased needs of local public facilities and service support for new Tung Chung residents, ethnic minorities as well as existing local residents.
Thus, Swire Trust's TrustTomorrow Initiative supports HKCSS partnering with four local NGOs, including H.K.S.K.H. Tung Chung Integrated Services, InspiringHK Sports Foundation, Playright Children's Play Association and The Zubin Foundation to launch "Building Community, Building Tung Chung" Programme from October 2020 to March 2023. Through the provision of various supports to families in the district, the Programme aims to foster mutual help synergy in the neighbourhood and engage the community to build a trustful and inclusive Tung Chung together.
Phase II has been kick-started in April 2021. It aims to provide series of sports, play, career and social inclusion activities to Tung Chung families through the collaboration between NGOs, schools and corporates in the community. Please click here for more details!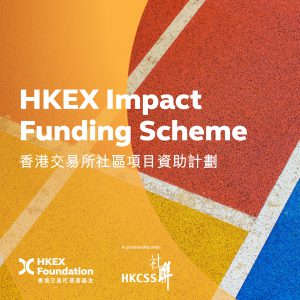 HKEX Impact Funding Scheme – Result Announcement
HKCSS, in partnership with HKEX Foundation, has set up the HKEX Impact Funding Scheme (the Scheme) for the first time in 2021 to support non-subvented local charities to implement community projects with the mission of community recovery from Covid-19. The Scheme focuses on the four themes of HKEX Foundation, i.e. Financial Literacy, Diversity and Inclusion, Poverty Relief and Environmental Sustainability, and with the overall aim to facilitate the society and the needy to recover from Covid-19 and adapt to the post-Covid world.
Thanks for the organisations' support to the Scheme. A total of 11 community projects with potential for sustainable development have been selected by the Selection Committee with a total grant of HK$10 million.
Click here for the list of funded projects, or visit the website of HKEX Foundation.
Contact Us
Address: Room 1109, 11/F, Duke of Windsor Social Service Building, 15 Hennessy Road, Wanchai, Hong Kong
Tel no.: +852 2864 2966
Whatsapp: +852 6849 9385
Fax no.: +852 2864 2991
Email: [email protected]
Website: www.caringcompany.org.hk