Caring Company Scheme
To build a cohesive society by promoting strategic partnerships among business and social service partners, and inspiring corporate social responsibility through caring for the community, employees and the environment.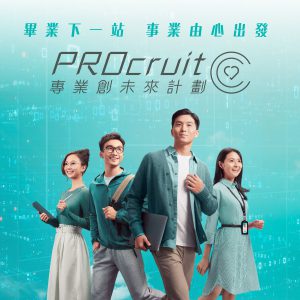 Call for Companies' Participation in PROcruit C
The Hong Kong Council of Social Service (HKCSS) is inviting companies from different industries to participate in The Professional Traineeship for First-Time Jobseekers Project namely PROcruit C (the Project) created and funded by The Hong Kong Jockey Club Charitable Trust, by offering job opportunities and hosting motivated trainees to launch their careers with emerging professions in the area of Business for Good – Corporate Responsibility focus.
The Project develops young talents to address post-COVID-19 social needs and challenges in the areas of Healthcare for Good, Technology for Good, Creativity for Good and Business for Good. The Project deploys a professional traineeship model to transition first-time jobseekers to emerging professions that further strengthens the resilience of our community. HKCSS is the Industry Convener in the area of Business for Good, responsible for corporate partnership and coordinate positions related to Corporate Social Responsibility.
Project details
Proposed Position: Corporate Responsibility Assistant
Job role: provide duties related to the area of Corporate Responsibility
Target audience: Fresh graduates of 2019-2021 who are degree or sub-degree holders and first-time jobseekers Project duration: 12 months
Participating companies who are successfully created job(s) under this Project will receive 50% subsidy on basic salary and MPF from The Government's Anti-Epidemic Fund (AEF), up to HK$10,000/trainee/month for a period of one year.
Participation deadline:25 May 2021 (Tue)
For enquiries, please feel free to contact
Samantha Chung ( [email protected] )
Yoyo Fung ( [email protected] )
Participating organisations in the area of Business for Good (in alphabetical order according to English company name):
Asia Allied Infrastructure Holdings Ltd, Bamboos Professional Nursing Services Limited, BCTC (Bank Consortium Trust Co Ltd) , Chicle Communications Ltd, China Merchants Foundation Limited, Chip in Fish & Chips Limited, Citibank N.A. , Deloitte Advisory (Hong Kong) Limited, Eventizer Limited, Fimmick Ltd, Gerson Lehrman Group (Asia) Ltd, GF Technovation Company Ltd, Hang Seng Bank Ltd, Hang Seng Investment Management Ltd, Happiness Capital, Hongkong Land Limited, Kerry Holdings Ltd, Kerry Properties Ltd, Kinetix Systems Ltd, Kwai Hung Realty Co., Ltd , Link Asset Management Ltd, Meiriki Japan Company Ltd, Mindset Limited, Otis Elevator Company (HK) Ltd, Standard Chartered Bank (HK) Ltd, Strategic Public Relations Group, Swire Properties Ltd, The Hong Kong and China Gas Company Ltd, The Project Futurus Ltd, The Swire Group Charitable Trust, Transunion Limited (more companies will be joining)
Contact Us
Address: Room 1109, 11/F, Duke of Windsor Social Service Building, 15 Hennessy Road, Wanchai, Hong Kong
Tel no.: +852 2864 2966
Whatsapp: +852 6849 9385
Fax no.: +852 2864 2991
Email: [email protected]
Website: www.caringcompany.org.hk