Events and Meetings
NGOs Salary Survey 2016 – Result Release Session
NGO Management – Seminar
2017/01/19
The NGOs Salary Survey 2016 has been completed with the support of 105 participating Agency Members. The survey aims to provide reference information to assist NGOs in positioning their remuneration and benefits strategies and revamping the relevant human resources management practices to address the challenges in their operating environment.

The Survey provides the following reference information:
- a summary of salary data for a set of common benchmarked positions in different job families;
- an analysis of HR management practices among NGOs;
- a comparison of salary level in past years for each type of jobs (those with salary scales not strictly following the MPS);
- an average percentage of overall salary adjustment awarded to eligible staff in organizations as a result of the regular salary review;
- a report of benefits offered to different types of staff by NGOs.

In response to past feedbacks from NGOs, there are several enhancements to the survey this year. New benchmarked positions are added, from 48 to 53 positions of the social service sector. A set of more fine-grained salary data of the benchmarked positions by organization size is available.

To facilitate interested parties to understand the report, a result release session will be held on:
Date: 19 January 2017
Time: 14:30 - 17:00
Venue: Auditorium, 1/F, Duke of Windsor Social Service Building, 15 Hennessy Road, Wanchai, Hong Kong

Result Release Session

>>Enrol NOW!



Ordering Report

>>Order NOW!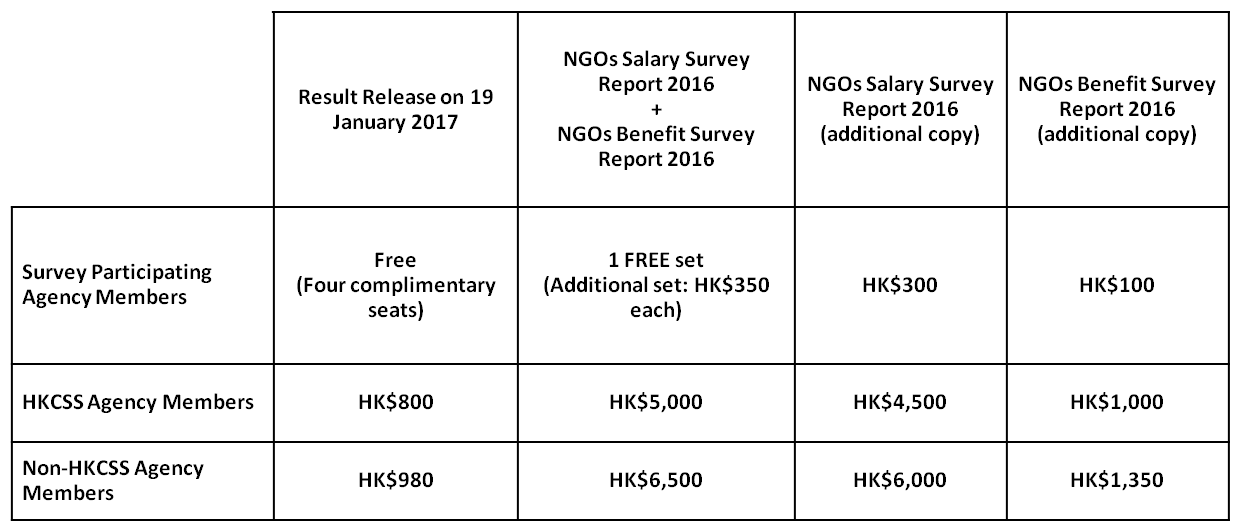 >>List Of the Participating Agency Member



If you are interested to know more about the survey, please complete the online registration on or before 9 January 2017 to join our report-back session. Thank you for your kind attention.

Enquiries
2864 2955 (Mr Hiu Lam YEUNG)
2876 2434 (Mr Ken LAU)
Previous